MetaQuest PRO VR Glasses Review 2023
The MetaQuest PRO has an undeniable value proposition, even at its new higher price. It's the best bang for the buck VR headset in the market, offering features that are unmatched by any other headset. The MetaQuest Pro, on the other hand, comes at a hefty price of 1500 US dollars and is considered to...
How to get Essence in Earth2 – Easy Steps to get Essence
Earth 2 is a virtual world where players can own properties and collect resources. One of the most valuable resources in the game is Essence, which can be collected by constructing a building called a Mentar. Here's how to claim Essence in Earth 2. Step 1: Own Tiles In order to start claiming Essence, you...
Raiding in Earth 2 – What are cydroids?
Earth 2 is a metaverse where players can create and manage their own properties. It's been a while since its launch, and the game has seen many updates and changes over the years. However, one recent development has been making waves in the Earth 2 community: the rise of the Cydroids. A Droid is essentially...
Raiding & Droids – Earth 2 metaverse game play function
The CEO and founder of Earth 2, Shane Isaac, recently gave a presentation on the company's new game mechanics system, known as raiding. This system is being implemented to provide active players on the Earth 2 platform with something to do during the waiting period as the company works towards the release of their one...
Welcome to Earth 2: A Full Scale Virtual Planet for the Metaverse
Are you ready to explore a fully immersive and interactive virtual world that feels just like the real thing? Then join us for a tour of Earth 2, the ultimate destination for the metaverse. In this video, we'll take you on a journey through the virtual planet, showcasing all of the incredible features and experiences...
Ready Player Me – Free Charachter creator
Welcome to Ready Player Me, the free character creator that allows you to design and customize your own 3D avatar! With our easy-to-use interface, you can choose from a wide range of features to create a unique and personalized character that represents you. From skin tone and hairstyle to clothing and accessories, the options are...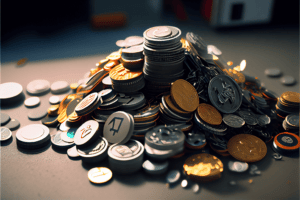 Earth 2 is a virtual world where players can own properties and collect resources. One of the most valuable resources in the game is Essence,
Read More »